Happy New Year! If you are in the US right now, odds are pretty good you are very, very cold at the moment. And if you were in Central Park last night, you were definitely cold. It was the coldest NYC new year's eve in 100 years, and the 2nd coldest on record. Lucky for me and my mister, we had one more race--the Midnight Run-- in the New York Road Runners 9+1 program to complete in order to qualify for the 2018 New York City Marathon to keep us warm.
I always wanted to do this race, but I never indulged in because of the steep $50 price tag. In fact, we were originally supposed to run the Ted Corbitt 15k earlier in December, but a last minute emergency prevented us from being there. So out of necessity, we signed up.
Where Did My $50 Go?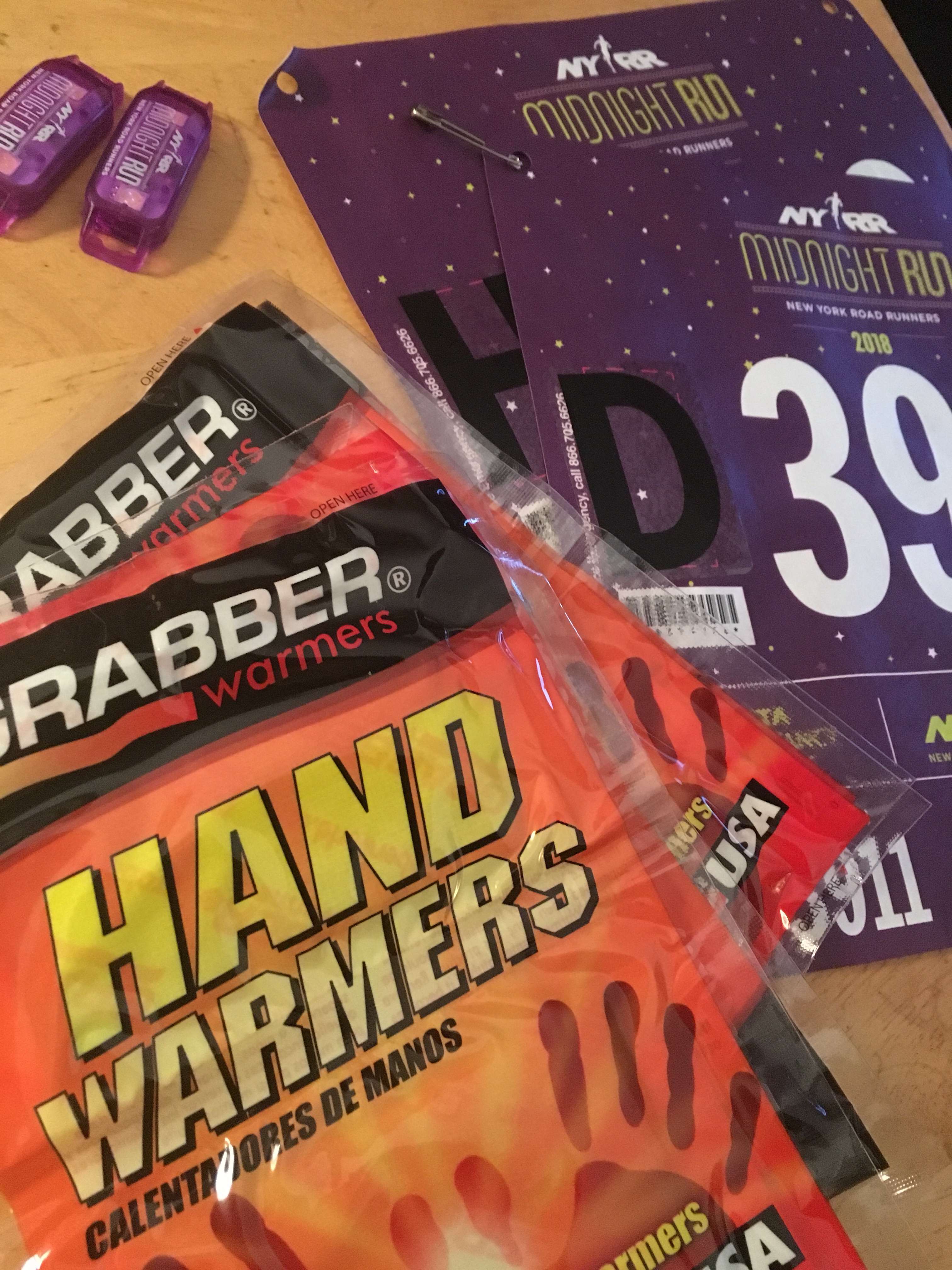 I picked up our Bibs, shoe blinker lights, and shirts a couple days before. I was surprised to find custom shirt imprinting available for the back of people's midnight run race shirts! This involved a lot of iron on letters and a man announcing that the line wait was 45 minutes and they were "all out of E's", but I was still impressed. A for Effort. Also, anything that helps explain the $50 price tag!
Little did I know, this race WAS actually a New Year's party. At 11 pm, race night, we pulled on the final layers to our ensembles (10 degrees F, wind chill feel at -4), made our way to 72nd street, and through the various security barricades. Up near the band-shell, was a stage an a huge crowd of runners dancing stiffly albeit enthusiastically. There were lots of great running getups- colorful holiday costumes, animal shaped pajamas, and all the traditional New Years head gear.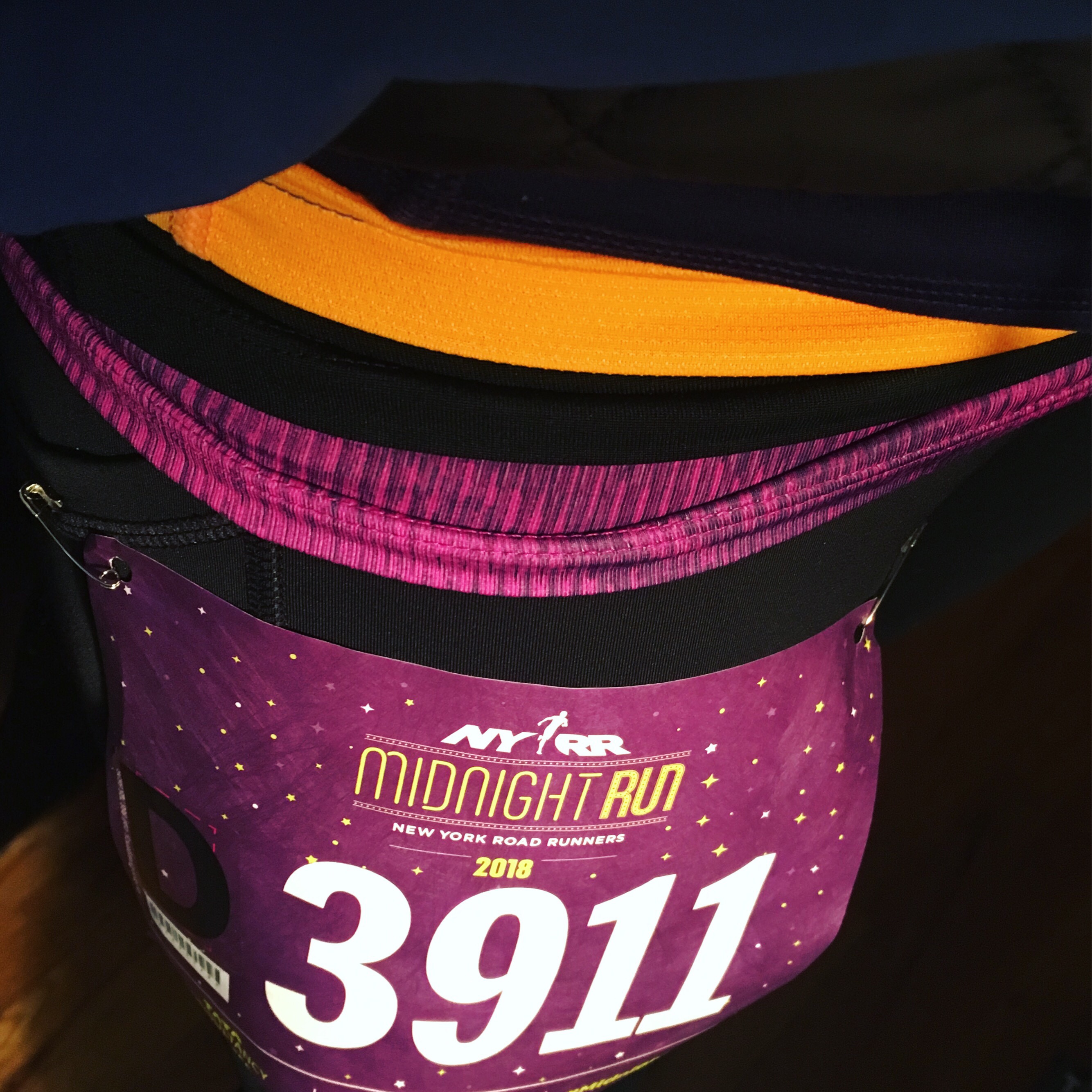 Running a little behind, by the time we reach the start, it was at least 11:45 and the corrals were PACKED. We managed to squeeze in and before we knew it, 2018 was here. And then the fireworks came.
Blast Off for the Midnight Run
I knew there would be fireworks, I just did not know when they would be exactly, and where. The answers were: right now at 12 and right next to you. Like right next to all of us. I have never been so close to fireworks in my life and it actually freaked me out a little bit how close we were. The fireworks were actually an extraordinary show too and went on for at least 10 minutes. My only complaint, was that since we all had to run away from the fireworks as the race was starting at the same time people were tripping into each other quiet a bit, trying to run and look at the show behind them. It might have been nice at if they started closer to 12:30, so the majority of runners would be running towards them and get to see more of them.
But, I digress- I still l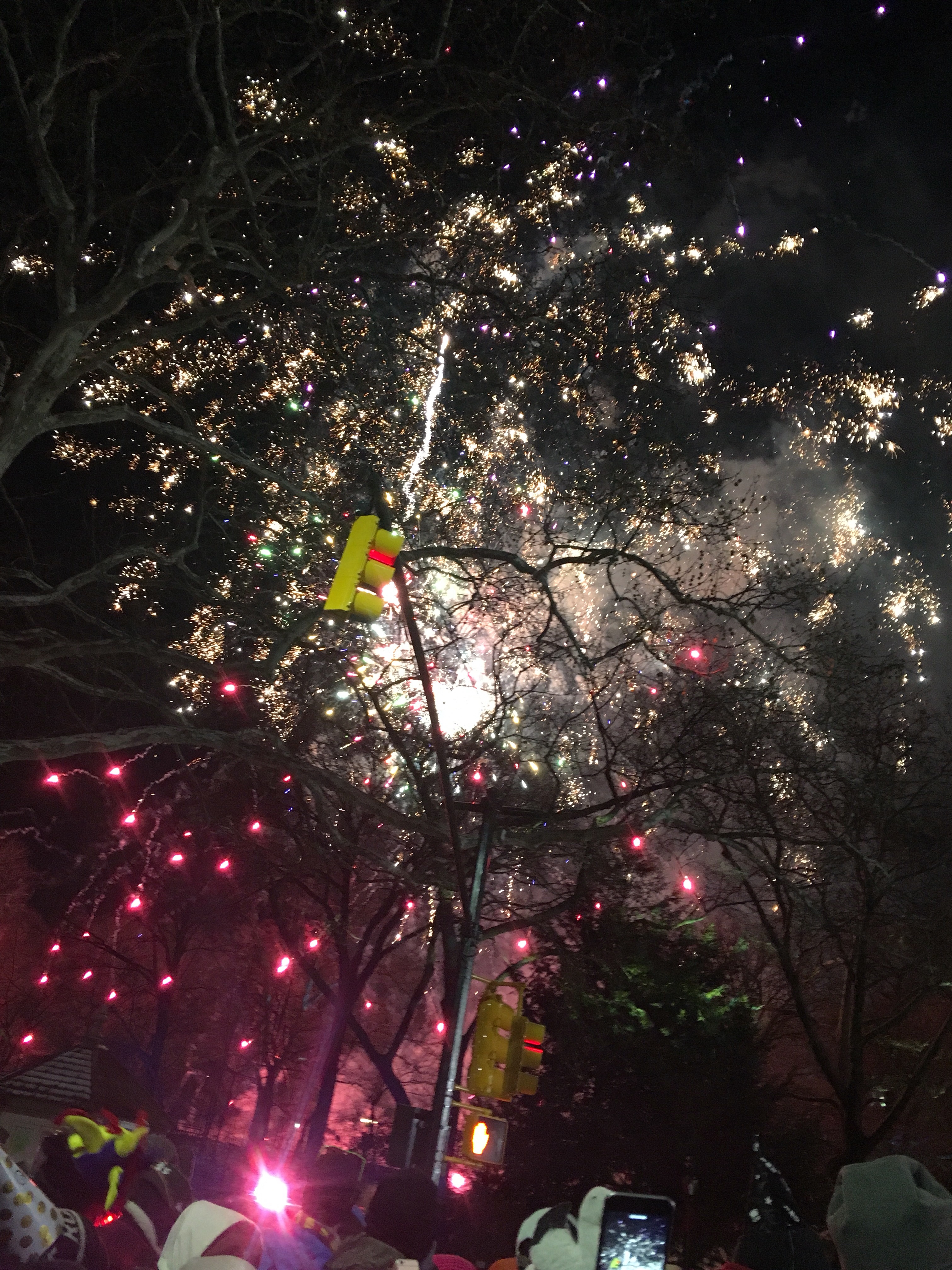 oved it. Then, just about halfway through, we turned onto the normally subdued 102 transverse, only this time it included:
a water station
a dj- complete with impromptu runner dance party
sparkling apple cider, frozen into a frothy slushy
Pretty cool!
As we were finishing, a man picked up the female runner next to him, who was wearing a white tutu, and carried her across the finish. My mister and I finished this race, arms linked, and I felt very lucky to have such an incredible man by my side not only for that moment, but for all of the races before it, and for all the days ahead.