Today I ran the Hot Chocolate 10K in Riverside Park- my first NYC RUNS race!
[caption id="attachment_299" align="aligncenter" width="528"]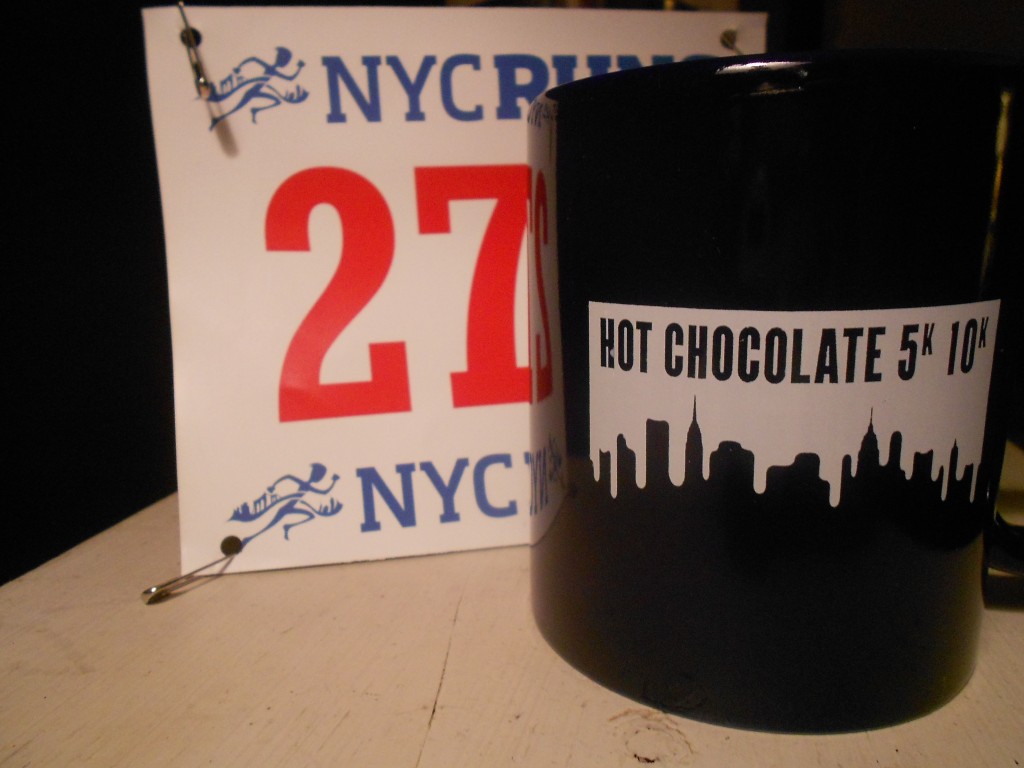 Bib and nearly demolished swag![/caption]
Yesterday, I ran down to Columbus Circle to grab my bib. The pickup was at the New York Running Company and not only did I get a bib, but they gave us a free mug too. I was glad I planned to take the train back home because I had enough trouble holding onto my mug/bib/bag as it was and I kept smacking the mug into things.  Luckily, I did manage to whisk it home without a chip  ;)
This morning we woke up way too early since we got used to heading out for 8:30 races, even though this morning's race wasn't until 10. In fact, the mister and I got to riverside park so early we watched almost the entire 5K race- which began at 9. Opps.
Observation #1: This race was small (in a good way)! I'm pretty sure there were only  about 250 runners for the 10K race. It reminded me of my cross country days because you had a very good sense of where you were in the pack and what sort of progress you were making moving ahead (or falling back).  I loved this size race. The volunteers and race organizers were also incredibly enthusiastic and personable.
Observation #2: I knew Riverside Park was hilly, but damn, Riverside Park was hilly! I've run through several times on my way to the West Side Highway, but apparently I always missed the actual hills.  This also made me question some hilly, er, mountainous runs I've been planning….
Observation #3: I'm pretty sure I actually injured myself on this run. I'm not sure if it was the cold, or the change in incline for me, or too much time off from being sick, but somewhere between mile 4 and 5 I felt it in my foot. It's a muscle pain roughly from my big toe to the middle/top area of my foot. I'm hoping it's just a rouge pain, worse case a minor sprain? Either way, as it was happening I immediately realized how stupid it would be to injure myself on a run that a) doesn't count as marathon qualifying credit when b) I have one race left for my 9+1 and c) that race happens to be a 9 mile race. Gosh. Golly.
[caption id="attachment_301" align="aligncenter" width="528"]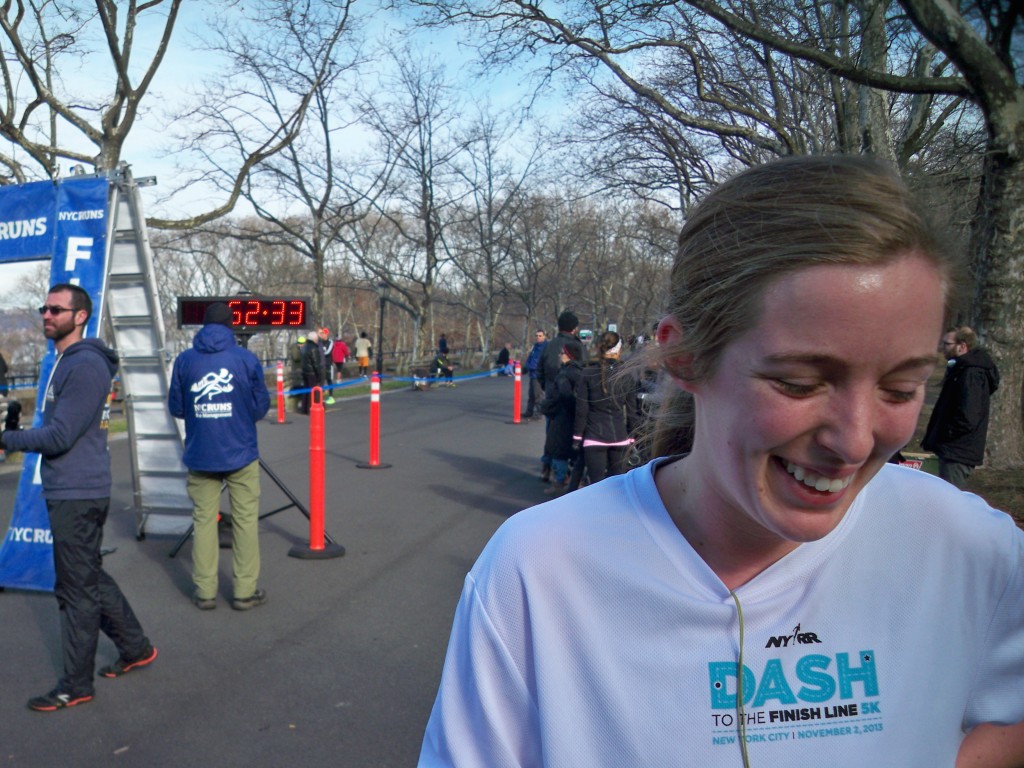 "Thank god that's over." Bashful as I may look, I'm trying not to cough a lung.[/caption]
In the meantime, I had a race to finish, and at 0:51:52, I hit some of my best placement stats to date! I was 8/88 in the women's 20 to 29 division, and 47/250 (ish) overall. Sweet!
It was also an unusual day because I met up with a co-worker who was also running and this was here first race. She killed it and came in just under 1 hour. Something tells me it won't be her last either…