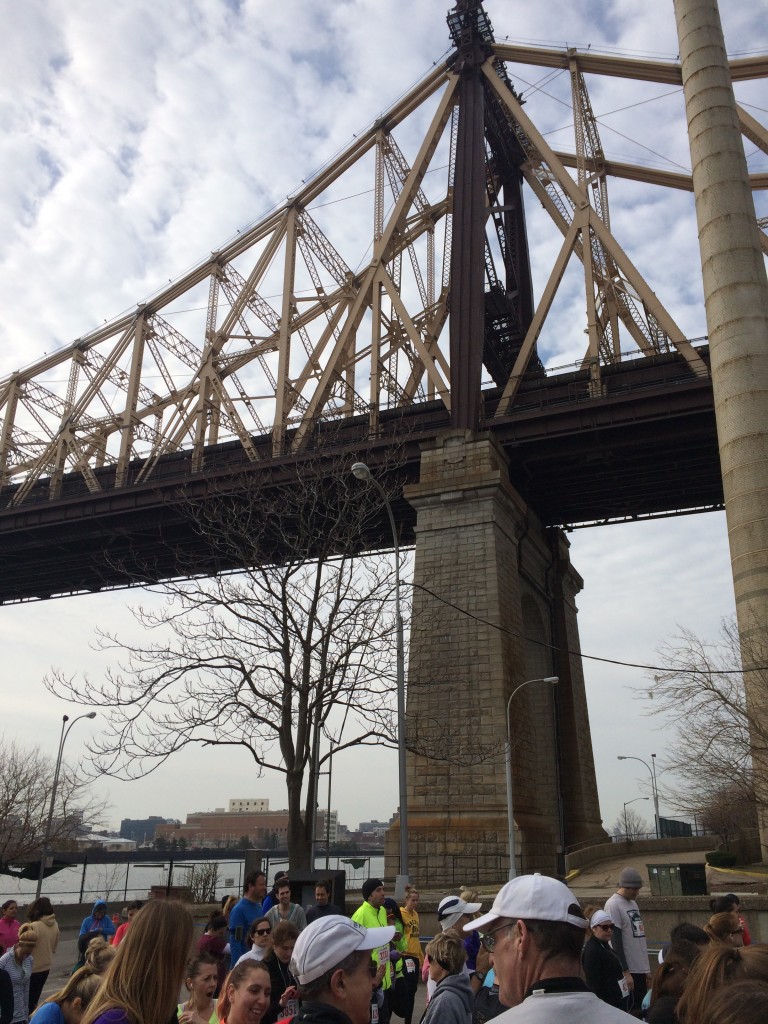 Best birthday ever? I'm an old goat now (the mister's loving turn of phrase) so I may have forgotten some good ones, but this is definitely a contender.
I noted several months ago the NYCRUNS Spring Fling 10K would be an interesting birthday adventure, but after my gauntlet of nyc marathon qualifying races last year, I have been trying to concentrate on certain race goals and training for
those races this year- NYRR Five Borough Series, I'm looking at you; Bear Mountain, I'd look at you I'm pretty sure I have slipped into terrified possum mode. It's my birthday, I told myself, there are no rules today.
I took the 6 to the F train and then took what seemed like 10 escalators down to Satan's basement to head to Roosevelt Island (that is, the finest Roosevelt's island, just to clarify).
Roosevelt's Island was everything I had ever imagined- that is to say if we were in a movie, it would either be the first place or the last place attacked by zombies.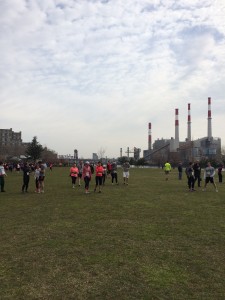 That's really all I can imagine when I look over there.
The weather was beautiful, a true spring fling.
The DJ, whoever you are, was killing it. Young MC, Bust a Move? Yes please.
The mic-man at the start line described the course and then said something to the effect of "Everyone understand? Because I don't." Laughs all around. "I'm told there will be a total of 3 water stations for you guys today. If I'm wrong, then there's not."
Got it buddy. Fast and lose. I'm hours ahead of you.
And we were off. The course was flat and fast. At the early double back I watched the fast pack of mostly men go by and did a rough count of all the quick ladies ahead of me, more than 10 for sure. My main goal today was to come somewhere in the ballpark of my December 51:something PR. If I was faster, I would be thrilled.
[caption id="attachment_437" align="alignleft" width="300"]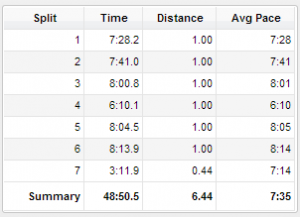 Point of fact #1: I always feel best by and at mile 4.
Point of fact #2: Garmin was feeling a bit wonky[/caption]
To my surprise, I steadily passed a couple of women, with not many people coming up behind me. Maybe four or five after the first mile? For a mile or so I fell into stride with a woman who I saw had the Bronx 10 Miler tech shirt on and I almost said "I almost wore that shirt today too, god that would have been awkward!" But I'm shy and at that point using oxygen for other things so I kept pace with her for a bit before she pulled ahead.
[caption id="attachment_438" align="alignright" width="247"]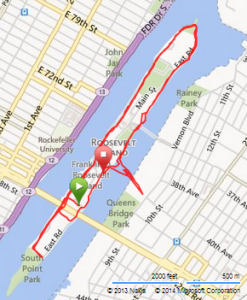 "Remember when ran that quick jaunt over to Queens? Through the water" "-No".[/caption]
Here it is worth noting that my Garmin was a little wonky on the mileage and not aligning with the course mile markers so by the time I hit the official mile 6, my Garmin had me there two minutes earlier. I wanted to grab someone and shake them until they told me exactly how close the finish was.
I opted to keep running and as I came down the final yards, I listened to the crowd, and I heard what a was listening for- another surge of claps and cheers- someone was behind me making a go of it. I had this scenario in my head but ruled out the option of a last kick because I was dying. But the finish was so close and I found a little extra. Just enough to finish 14 seconds ahead of the person behind me, who happened another woman in my age group.
And then I spit up some water next to a tree. Sad. But I'll never forget in my cross country days the kids who would end projectile vomiting as they ran down the finish chute. So.... yeah.
Old PR, dust. I never would have guessed. 48:47.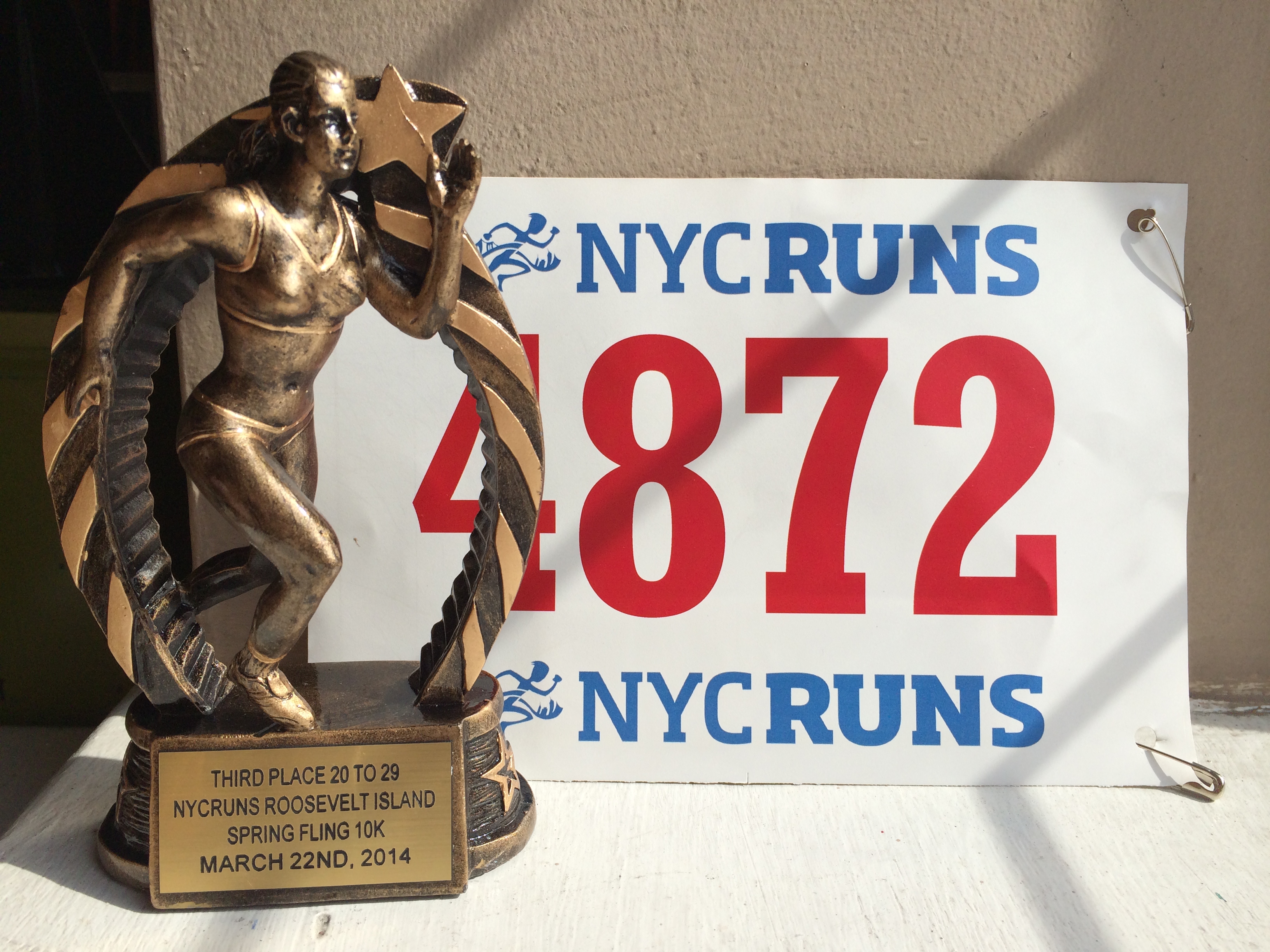 Even bigger surprise, I finished 3rd place in the 20-29 age group! Out of 115!
And then a bird pooped on me.
The verdict: Really great race event. Again, I love the intimacy of NYCRUNS. Lots of surprises today. Lots of rolling with it.
Someone asked me this afternoon how 26 feels. I told them "I feel old. Old and fast."