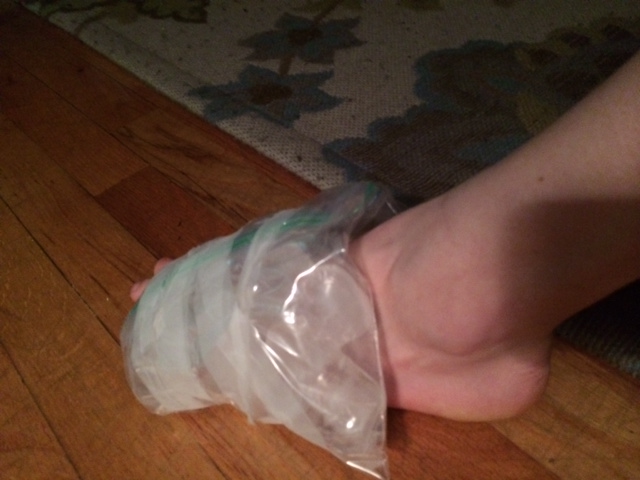 Instead of the glorious slow taper into moderately simple nine mile runs I had envisioned for the last two weeks, my tapering has looked a lot like this ->
Some mystery injury near my ankle had begun to flare up shortly after my second to last long run. I took it easy, iced it, and completed my last long run, which I was particularly worried about squeezing in before I was less than 2 1/2 weeks out from the race.
The last long run was awesome, I felt great, and my muscles weren't even that sore the next day. Sweet!
The only thing was, with in a day, that phantom foot pain returned. Fine one day, bad the next, fine again, visibly inflamed the next. Some further googling (not recommended, terrible idea,) led me to be fairly certain that it could be Peroneal Tendinitis. And thus, the unholy trinity of running disasters (not running because of an injury from running thereby eliminating all foreseeable running), brought me to my own tragic meltdown in the middle of the week.
The Mister and Runner Brother talked me through it and somehow two weeks that should have been a carefully crafted, reduced distance runs, looked like this:
The No Running, Hail Mary, Injury Curing Taper:
1. As stated, no running. And since we need a "hard heal," no biking, jumping, lunging.
2. Ice. Ice. Baby (that foot). 20 minutes, after work. Once or twice a day.
3. Ibuprofen. Every other day roughly.
4. Hydrate. Since I have so much restless race prep energy, I might as well nail the other nuances of running a marathon. Like properly hydrating the next few days. Might as well carb-load while I am at it too, amiright?
5. Mental Inventory. One thing I learned during my long runs was how important the mental aspect is during distance events and, for me personally, how important it is to relax. I feel wholly mentally prepared for this race, and that might be even more important than having logged XYZ amount of miles or having executed the perfect. I trained well up through my last long run, and as long as my foot (tendon? who knows) holds up remotely, it'll work out.
6. Shoes. Last spring I went to Paragon Sports, near Union Square, and walked away with a blessing and a curse. The blessing? The new Adidas Energy Boost shoes which would be, and still are, the greatest running shoes I've ever tried/owned. The curse? The associate who introduced me them said you get double the millage of other shoes and the he personally put on over 1,000. 
Totally jinxed me. I'm all for replacing running shoes in due time. But I'm also a procrastinator, poor-ish, and inclined to believe unrealistic shoe expectations.
The Mister went back to Paragon with me and treated me to one of the best birthday gifts ever.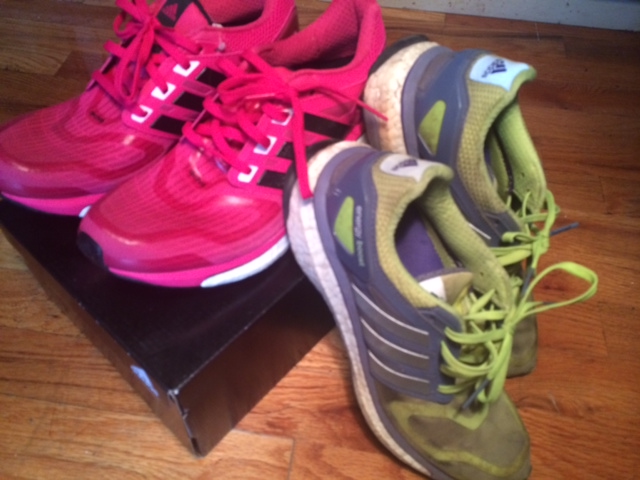 Ironically enough, pink was the only color they had. This, after a very long and heated discussion with the mister about whether or not the TCS New York Marathon Training Shirts coloring options are sexist. (Spoiler Alert: they are).