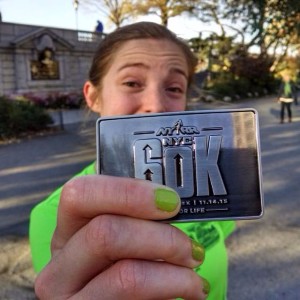 Begin at the beginning (Part 1) and without further adieu, part 2:
All week, I had been trying to track down just the right gels that I had been training with all summer. I thought I had enough to last me through all of the fall races, but I had thought wrong. I went to two different Jack Rabbit Sports in the process of tracking them down and in the end had to settle for some new flavors.
I may not have found the Strawberry Banana Power Gels I was looking for, but I did walk away from the Upper West Side Jack Rabbit with some last minute words of wisdom that echoed in my head all weekend.
"Go slow." The clerk said. "You're going to feel good and feel like going faster. Go slower. You're going to hit 26, and feel like going faster. Eh, don't do it. Go slower. Then, when you got maybe 5K left, eh, go for it." 
I knew patience would be the name of the game, but it was good to hear it one last time just in case I got any... ideas.
Since my Mister insisted on coming (I felt bad 7 hours in the cold park sounded like a less than ideal spectator situation), I suggested he meet me two hours in. This helped:
-him have less time waiting around
-helped break up the race into smaller mental breaks for me
-helped me relax and not go out to fast because someone was waiting for me
I saw some runners used rubber bands to keep track of their laps (start with 9 on one wrist, and move 1 at a time after each loop) and decided that would be the best way to keep track. I was so glad I did! By mile 28, I defiantly had a touch of the fuzzy running mind and could only count my remaining loops in terms of "Uhh, 37ish minus this many hair elastics" *holds up wrist.* It was a very efficient method of keeping track of 9 laps.
Miles 1-13- Already forgot the first loop was the longest, very disappointed when I got to 72nd and couldn't take the transverse. Nice and easy, no music, looked forward to seeing my mister.
Miles 13-25- Switch into music mode. I dive right into the soundtrack of "Hamilton." Two hours and forty five minutes of catchy tunes that plays like a big long audio-book? Yes, please! By the time I came through mile 25, I was barely into Ac II. I paused it and saved it for later.
Miles 25- 29 - My Mister joined me for a 4 mile lap, while carrying a heavy running pack full of too much stuff I packed!
Miles 29- 33- On my own again! More Hamilton!
Miles 33-34- The Mister joins me again on my last lap, and then he cuts through near the reservoir to meet me near the finish. All this time I am attempting to do math (with little luck). I am pretty sure a sub-7 is still possible, but I'm not exactly sure. And if it is possible, I'm not sure I can pull it off at this point.
Miles 34-37.5- I run almost the entire rest of the way, with maybe a miniature walking break strategically timed with one of the tougher hills. I'm pretty tired at this point. No more gels, no more water, any thing else and I risk upsetting my stomach for no reason and missing a chance for the sub-7.
I expect to see the Mister on the final reservoir hill, but he is just past the Met! It was perfect timing and just as I was thinking about kicking down a gear (soo tired), I find a last burst as he begins to run with me one last time up that damn hill.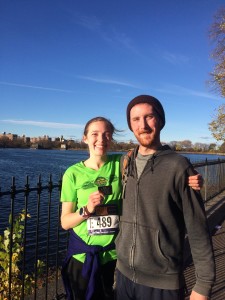 And just like that- I was done.
6:59:56!
196 out of 351 finishers
45 out of 103 women
5 out of 18 women AG
A very, very special thanks to this handsome man who supports my endless running/ talking-about-running every step of the way.