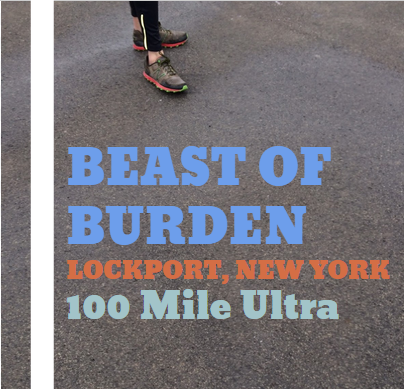 This weekend I was originally going to run the Fred Lebow ½ Marathon, but I ended up swapping 13 miles in Central Park for 13 miles of pacing my crazy brother, Charlie, during the Beast of Burden 100 Mile Ultra in Lockport, New York- upgrade!
Charlie ran his first 100 miler during Virgil Crest  in September, but this was his first ultra on a flat course so we were eager to see how it would go.
Lucky for everyone involved, the races (25, 50, or 100 miles) kicked off at 10:00 am. The joke was that the former race director liked to sleep in and now it was helpful for Canadian racers who liked to drive down the morning of. We left the Finger Lakes around 7 am, got into Lockport around 8:45, and were ready for the pre-race meeting at 9:45.
The parking lot was filled with cars doubling as race-resumes with stickers ranging from the JFK 50 to the Musselman Triathlon and everything in between.  It was a great atmosphere; the daunting distance didn't deter runners from donning their finest costume garb which featured horned hats and pink fur.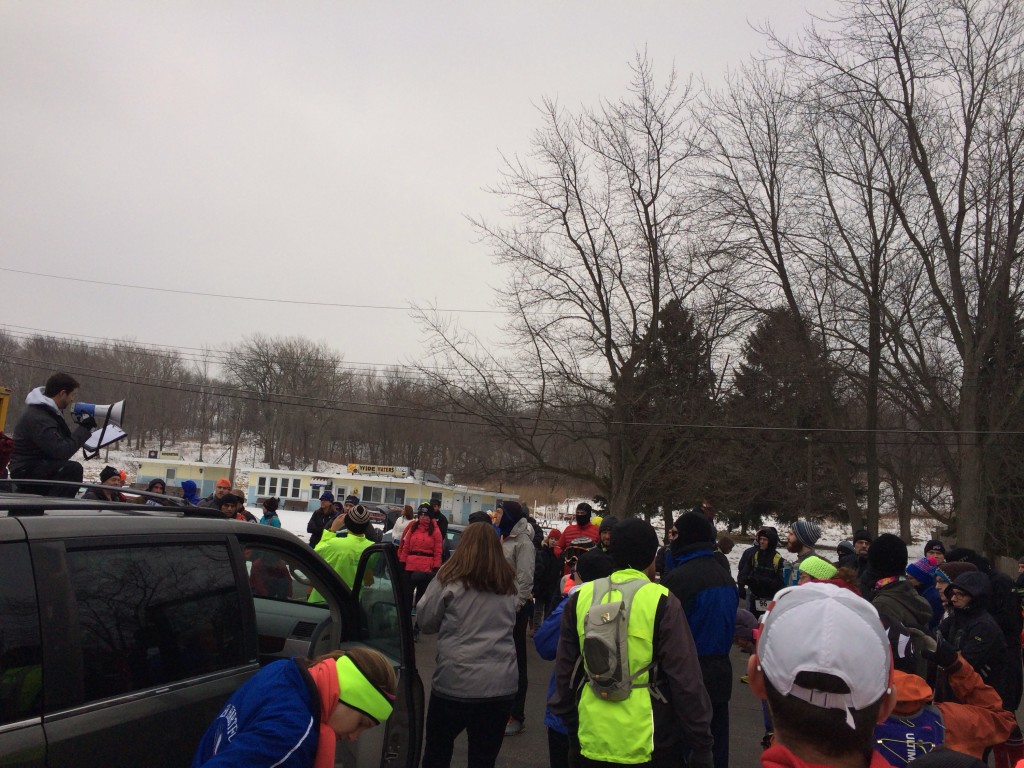 At the pre-race meeting the race director went over all the final details, which included to option to change distances before the race began. He reiterated runners change it before the start, because "if anyone tries to change it during race, we have a special acronym for that called 'DNF'." Laughs all around.
And they were off!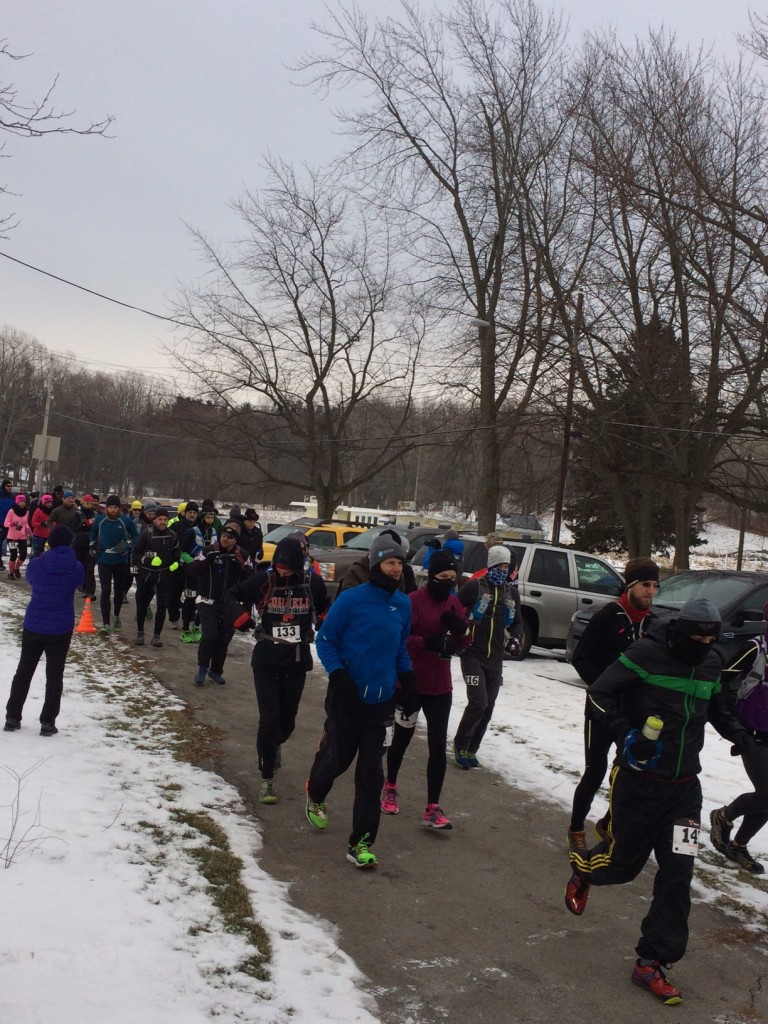 It was an out and back course: 12.5 out, 12.5 back in, four loops to complete the 100. It was completely and utterly flat, winding gently along the bends of the Erie Canal.

For runners the aid stations were at Mile 1 (Lockport), Mile 7 (Gasport), and Mile 12.5 (Middleport). For Crew and Spectators, the main checkpoints were Mile 1, Mile 6 (Orangeport), and Mile 12.5, so my aunt, my mom, and I spent most of the day shuttling back and forth.
Fifty Miles on the Erie Canal: The First 50
The first 50 miles were pretty smooth. Too smooth maybe, since his times matched up with a lot of his shorter races of the same distance.
Miles 1- 12.5 = 1:45 (11:45 am)
Miles 1- 25= approx 4 hrs (2:00 pm)
Charlie took fresh chicken noodle soup from us at the 25 mile marker, but after that ate mostly from the aid stations which were STOCKED with pretty much anything imaginable: peanut butter and jelly sandwiches, grilled cheese, chicken broth, vegetable broth, salt potatoes, pizza, pretzels, chocolates, HEED, electrolyte tablets- the list goes on.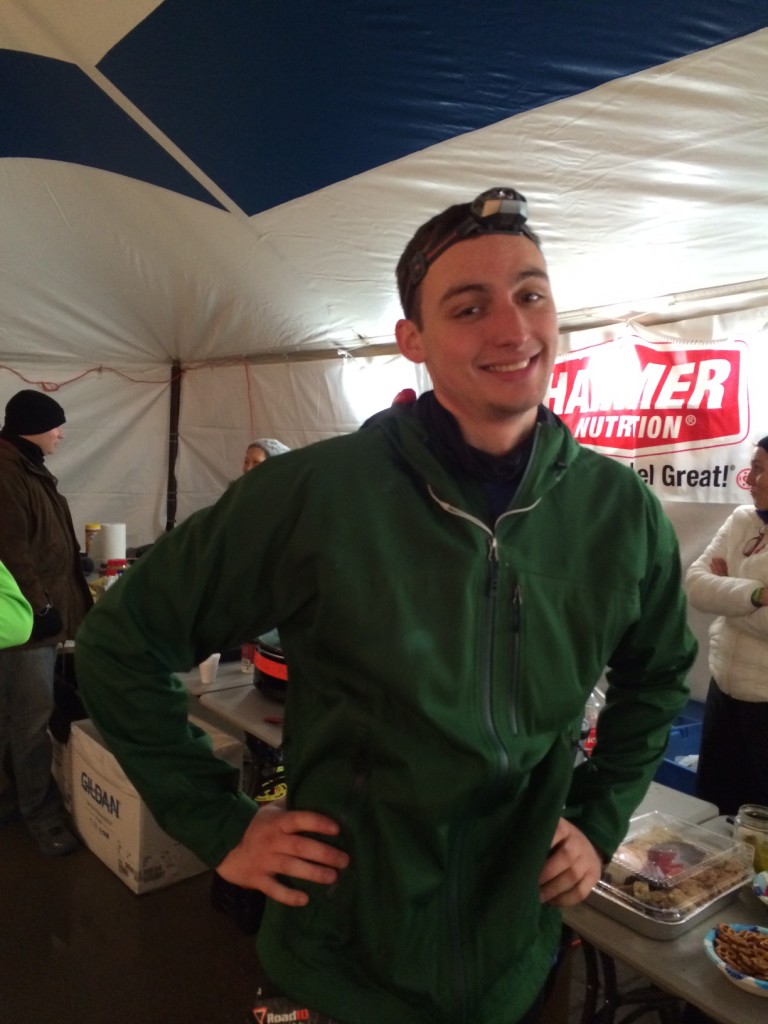 He finished the Miles 25-50 in about 5:17 (7:17 pm) and locked in a 50 Mile PR about 2 hours faster than his Bear Mountain finish last spring.
He had paired up with Ben from Cleveland some point after Mile 30, and the two had joined with Yak Hat sometime after Mile 37. Note: I tried to ask the third runner's name but Charlie was to tired to entertain me.
So, Charlie, Ben, and Yak Hat- the three came in together at the 50, and set out on their third loop together.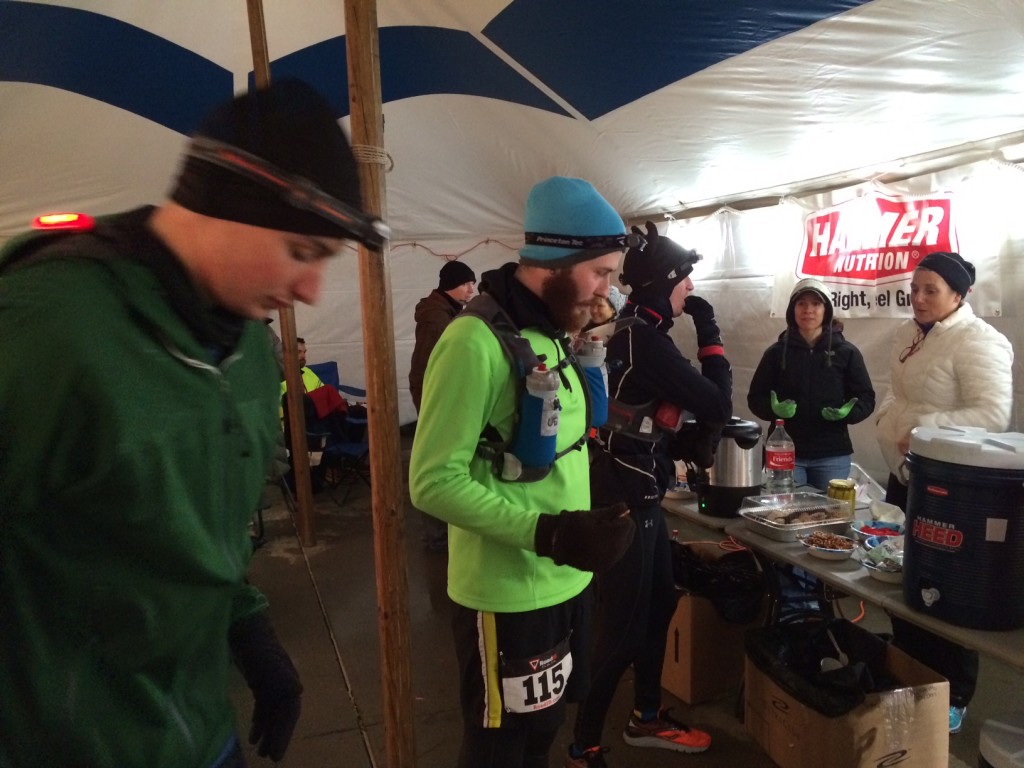 Miles 50-100: The Tough Get Going
By the time we met them again at Mile 62.5, Charlie was hurting. Bad. The three rested for a bit at the Middleport aid station before finally Ben and Yak Hat set off. Charlie's legs had basically tightened so badly (most likely due to a combination of a mis-timed yoga class and the cold...maybe even the 62 miles he had just run?) that it was increasingly difficult to run at all.
But I supposed part of the point of a 100 Miler is that it is difficult, whether it is in the way you expect or in the unforeseen surprises that arise from even the simplest of things.
He set out again, and some time soon after my mom, my aunt, and I all swore we would never go to another 100 Miler. And some time soon after that we all recanted and set out again to follow around someone intent on torturing himself.

Charlie had decided I should jump in for miles 75- 87.5, so I was suited up and ready to go as we waited for him to come back in to the main aid station. When he did come in, he was hurting. Luckily, one of the volunteers, Dwight, happened to be a massage therapist and helped Charlie work out some of the knots in his legs. It looked excruciating, but Charlie said it was well worth the pain.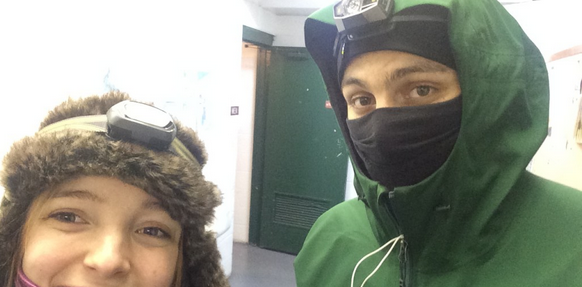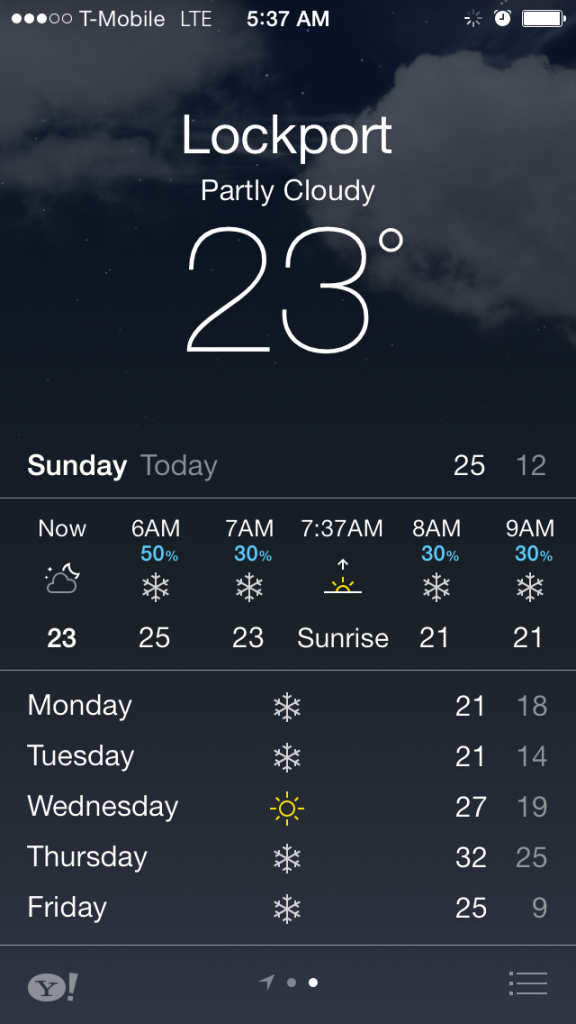 We set out just after 3:15 am. There were no lamp posts, so most of the course was dark, and we had head lamps, and blinking red LED lights on our backs. It was about 20 degrees and dropping, with 15-20 mph winds. With wind chill factored in, it felt like it was a frigid 5 degrees. Unfortunately,  Charlie's legs were still too cramped to get running at this point. And so we walked. And walked. And walked.  You couldn't see that much ahead of you or around you in the dark, and what you could see looked the same as the mile before it. The miles and the darkness of the morning stretched on and on like some hellscape that I imagine would drop off the edge of the earth before it reached a finite conclusion.
We reached my mom and my aunt at the 6 mile mark around 5:30 am and scrambled into the car. The idea was to warm up, and hit the road again. Then Charlie dozed a little and said 6. Then 6:15. Then maybe 6:30. It was a tough call. I literally shivered in the car for an hour before I began to feel warm again. I put on more layers. When I finished, I had on 2 long sleeve base layers, 2 long sleeve tech shirts, a hoodie, and a waterproof outer shell.
Finally, at 7 o'clock, Charlie made the call to push on. He was adamant he was going to continue the whole 100 even if he had to walk until just under the cut off, so we set out. After a few feet, he realized the cramps were starting to fade, but not enough to pick up running again just yet.  So we walked some more. The sun was just coming up through the trees, and for a few minutes the landscape looked not-so-barren. Within an hour, clouds had settled over again, but for a little bit, it was quite nice.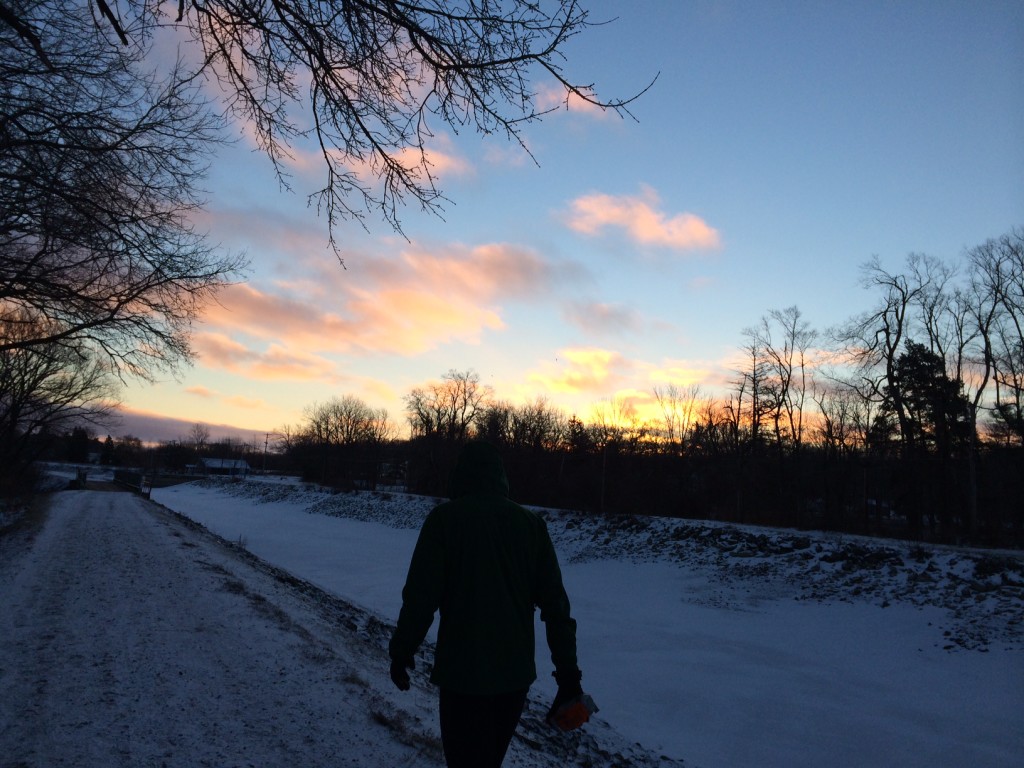 We also began to see more runners. While we were car napping, I didn't see many people. But as soon as it began to get light, one by one the course began to come alive with more runners; we were like bears coming out of hibernation.
Charlie and I made it into the Middleport Aid Station, and again, we were chilled to the bone.
By the time we met Charlie at Mile 94, he had been able to start running again and had made up a lot of time. Who knew after 94 Miles things would be drastically better than ten miles before?!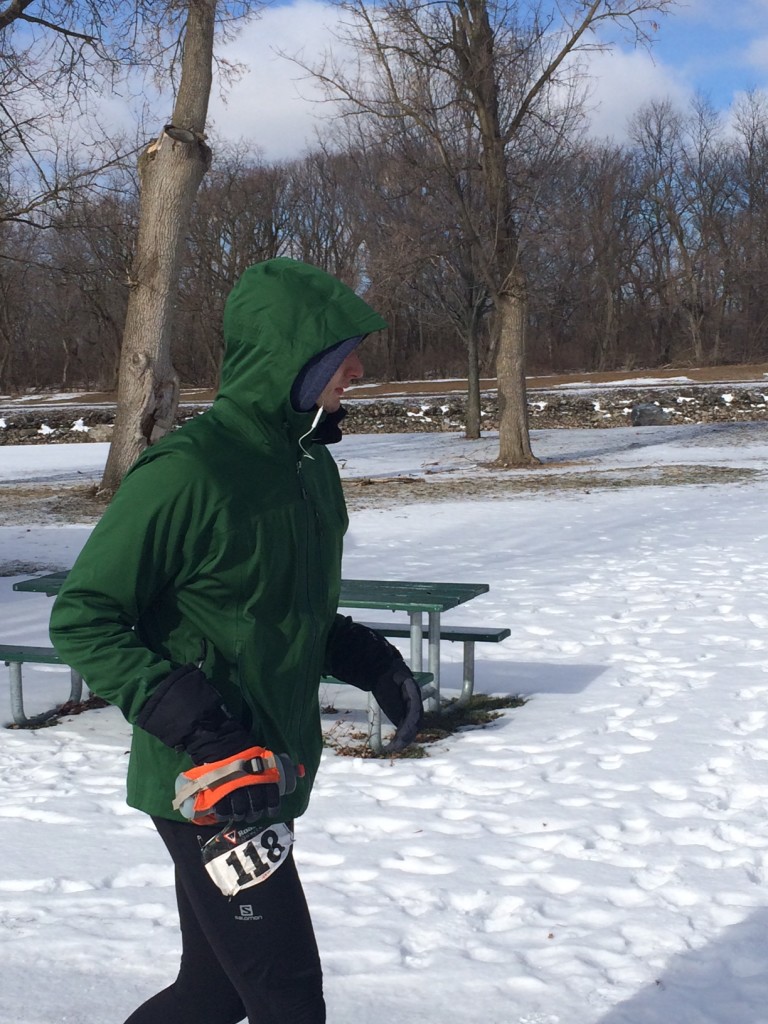 As we waiting at the staging aid station/ finish area, we could see runners on the other side of the canal as they wound their way back the final two miles to the finish. We say Charlie and several other runners across the water all within 30 minutes of each other.
The volunteers here were incredible, and popped out of the warmth of the tent to lookout for finishers. When they spotted someone, everyone would grab a cowbell and run out to welcome the runner in. It was incredible, especially since many were running with out spectators or crew.
Then it was Charlie's turn and at 1:07 pm, Sunday afternoon, he finished.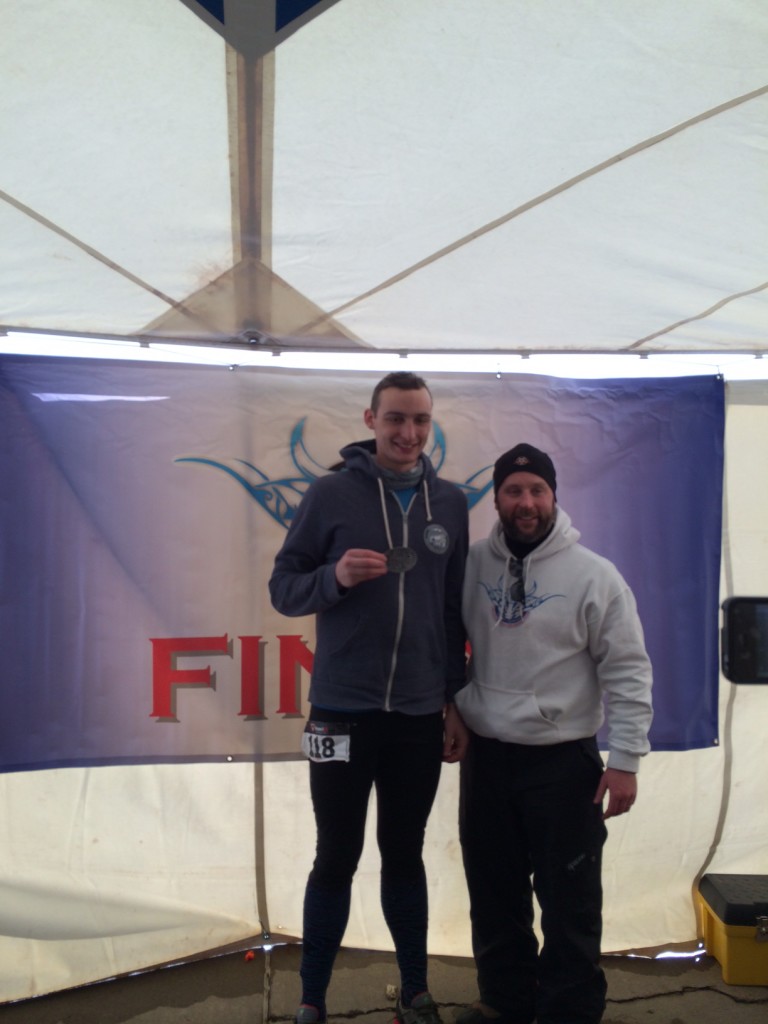 It didn't go exactly as planned. We asked Charlie how many other runner's he saw, he said 'Well there's still a couple of people behind me'. And then we saw the results: 11th out of 30 finishers. He was one of the 2 youngest runners, possibly the youngest.
I've never run an ultra, yet. Charlie is working on changing that. But from the tiny sliver of this experience I shared with him, I can't say with certainty that I would have chosen to go on after 75 Miles. I don't know that even if I managed to make it 75 miles, I would head out again when every step was excruciating- and optional.
Charlie did. I'm not even sure if it was ever even a choice in his mind- whether to continue or not. And to me, physically finishing 100 miles pales in comparison to his certainty and determination that, one way or another, he would finish.