Thanksgiving is a comin' and as it my favorite holiday I think, I am at the very least, required to learn a new recipe in order to celebrate properly. Amiright?
[caption id="attachment_118" align="aligncenter" width="480"]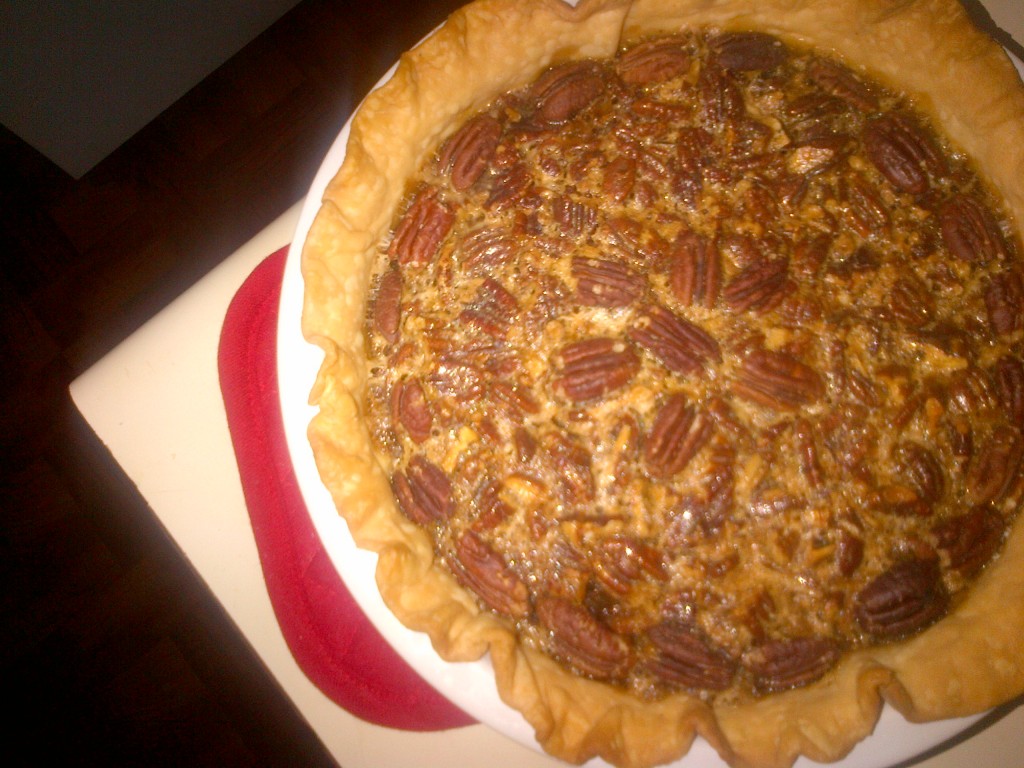 Pecan Pie, oh my![/caption]
I knew I wanted to make a pecan pie, but other than that, I really didn't know where to begin. I quickly learned that the most "traditional" form of pecan pie uses Karo corn syrup. And about a cup of it. Don't get me wrong, I love baking and with that comes some territory that will never be "healthy". And I'm fine with that; indulge and enjoy, now worries here. But certain things still freak me out gross me out a little: shortening? Corn Syrup? The jury is still out.
As a result, I found a variety of recipes that were quite diverse. Each recipe seemed to have a completely different combination and ratio of sugars, molasses, corn syrup, and pecans. One popular recipe even omitted the corn syrup completely. However, as this was my first attempt, I decided to go very traditional, and finally settled on this version, from Simply Recipes.
 Recipe
1 9-inch pie shell, frozen or chilled for an hour if freshly made.
2 cups pecans, coarsely chopped
2 eggs, slightly beaten
1 cup light corn syrup
1/4 cup brown sugar
1 Tbsp molasses
2 Tbsp melted butter
2 Tbsp flour
1/4 tsp salt
1 tsp vanilla
Optional: Whole pecans for decoration
1. Preheat oven to 375°F. Laid pie crust in the bottom of pie plate and crimp edges.
2. Spread pecans along the bottom of the pie shell. Mix the remaining ingredients and pour over pecans. (No need for an electric mixer, you can mix by hand.) The pecans will rise to the surface of the pie. Use whole pecans and laid gently on top of the pie mixture to decorate.
3.Bake at 375°F for 40-45 minutes until the filling has set. About 20 minutes into the cooking you may want to use a pie crust protector, or tent the edges of the pie crust with aluminum foil to prevent the pie crust edges from burning.
4. Remove from oven and let cool.