It has happened!
[caption id="attachment_354" align="aligncenter" width="595"]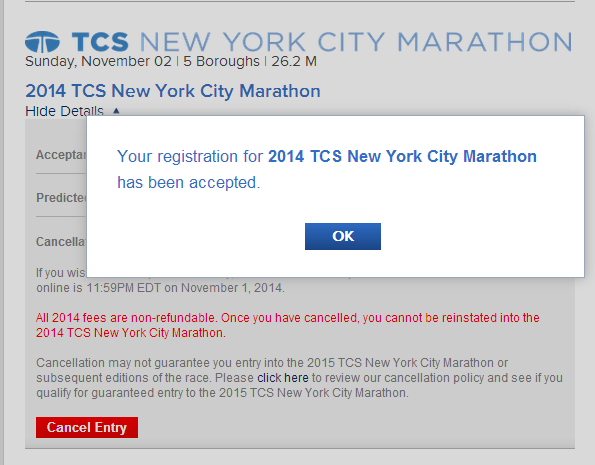 Officially Registered[/caption]
I am running the TCS New York City Marathon on November 2, 2014!
I cannot begin to explain what the New York City Marathon means to me, or even how the process of committing to qualifying affected me (though I will try to in a following post). All I know is that I am literally so excited that I have  found myself teary eyed on several occasions- on the train, during practice runs, at finish lines- thinking about how it would feel to actually be coming down the final mile. It's super embarrassing, but true.
Not only did I decide spontaneously that I would immediately begin fulfilling my 9+1 credits, but I decided in August, which left little more than four months to run nine races.And since I am no speed demon (sub 1:30:00  ½ Marathon Qualifying Time? Wici-What!), I qualified via the New York Road Runner's 9+1 Program.
(Note: Unbeknownst to me, this year was the last year you spontaneously join NYRR mid-year and qualify for the following year. Now you must be a member from Jan-Dec of the year you complete your 9+1).
[caption id="attachment_353" align="aligncenter" width="324"]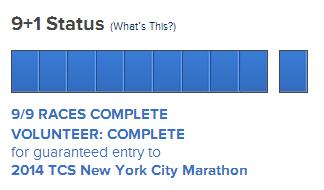 Done![/caption]
From August 24th to December 14, I ran 9 races: the Percy Sutton Harlem 5K, Autism Speaks 4M, Bronx 10 Mile , Grete's Great Gallop 1/2 Marathon,  Poland Spring Marathon Kickoff 5M, NYRR Dash to the Finish Line 5K, Join the Voices 5M ,Race to Deliver 4M, and the Ted Corbitt Classic 15K.
[caption id="attachment_384" align="aligncenter" width="480"]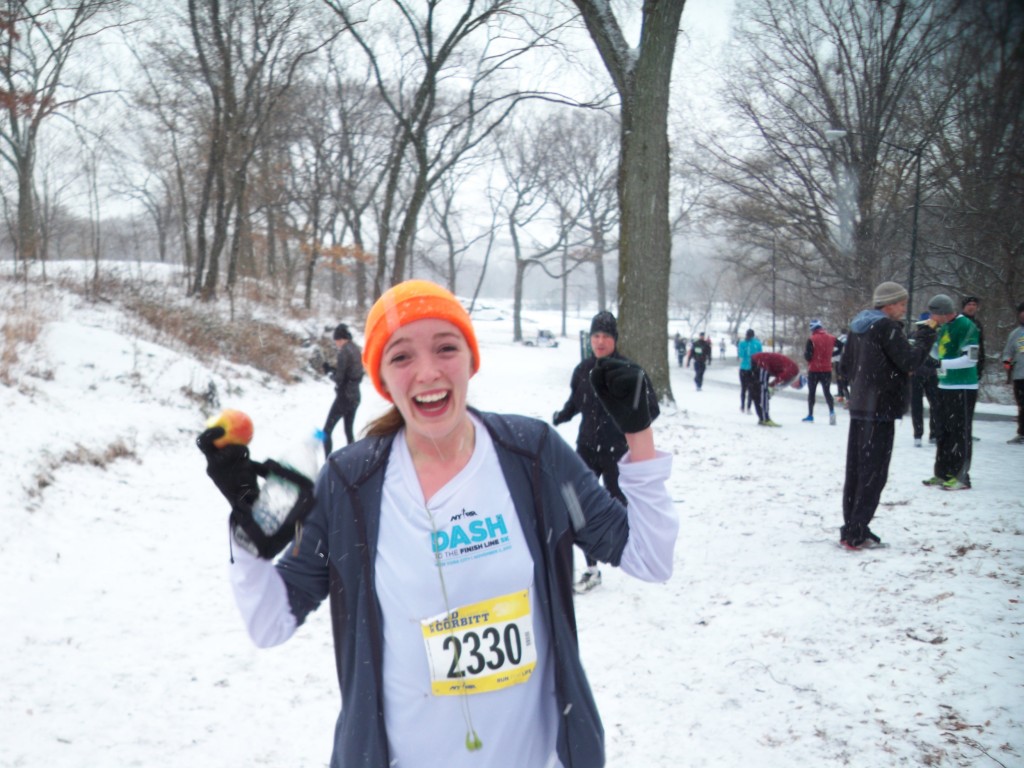 Qualifying for the TCS NYC Marathon[/caption]
Looking back on those races, two are tied for my favorite: the Bronx 10 Mile (because I had never ran 10 miles before and this race really changed my perspective on running), and the Ted Corbitt 15K (because I finally could breath a sigh of relief, having squeezed in all nine races before the end of the year, and because I had my mom, my aunt, and my mister there to celebrate with me).
Now I just have to learn how to train for a marathon! Then again that is why I found myself signing up for a "practice" marathon this spring... but that is another story. A whole new racing season is coming and I can't wait to get started.