Shotblocked! Run Attempt #1
Last Saturday I brought myself back to the gym with the goal of running 12 miles. I have been unusually and incredibly busy the last two weeks, between work/internship/and grand jury duty with a dash of sickness/visiting family/ and theater tickets. But since I had a half marathon the following Sunday, and Bear Mountain waits for no one, it was time to dust off my Garmin (literally) and get my act together.
By the time I got out of work and got to the gym, it was already 5:30, I told the mister "I am going to run and run and run and never stop, though realistically, I will be stopping around 7:30, home around 8."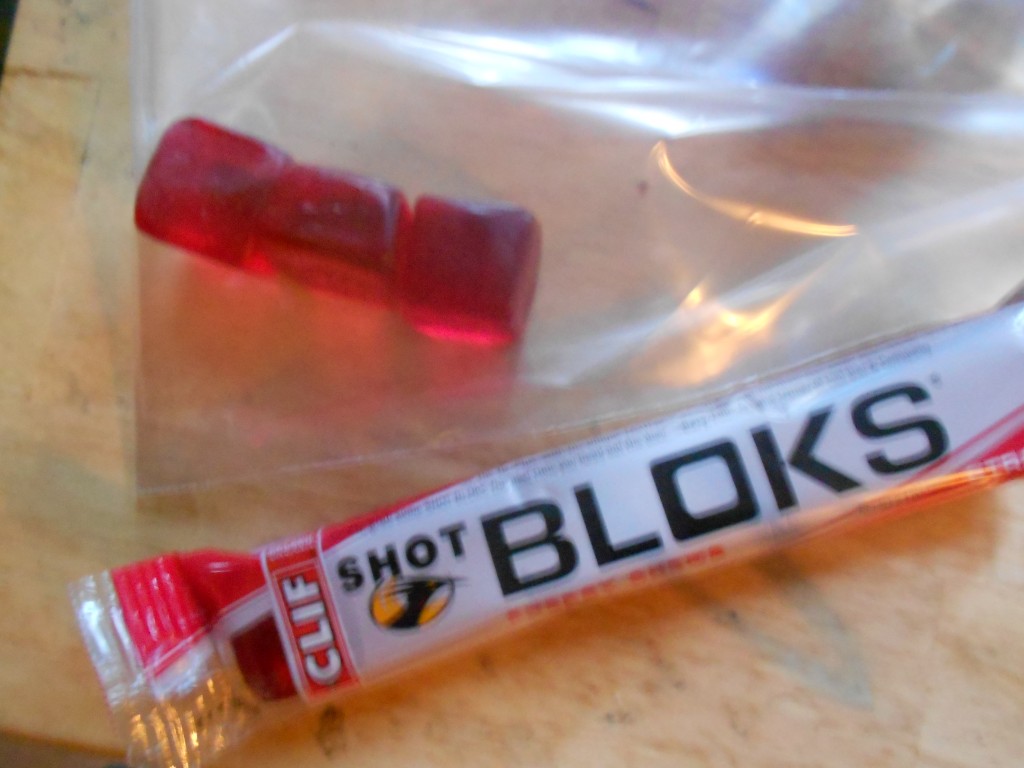 I began my run feeling a little sluggish, but lucky for me, I had also planned to use this distance run as a chance to play around with ½ marathon distance fueling in the form of shot blocks. (I had previously tried, some two weeks before, on a 13 mile run, I took a smaller-than-serving-size bit because I wanted to make sure they would gel with my stomach). So this time at mile 4, I popped the suggested three and slogged on. Thankfully, somewhere around mile 6 1/2  or 7, they really kicked in. My legs began to feel steady and forceful, my breathing steadied inesto something resembling rhythmic, and I had found my second wind on a run where I missed my first.
This was going great! I was going to hit my goal, there was a great movie on t.v., the gym was really mellow. I made a mental note: Saturday nights, nice and roomy. Too roomy. SURPRISE! Gym closes at 7. This I realize at 6:55 as one of the trainers shuts off all of the tvs. Wont. wont wahhhhhhhhh. I left with 8 ½ miles in my pocket and once more reminder that the Blink! Fri/Sat night hours blow.
Car-tastrophe
That Sunday I woke up early, around 5:30 a.m. to watch the mister's television debut on a morning program. He was spectacular!
A couple hours later, I ran to the metro north and headed up to Woodlawn. I met my aunt and brother for a yoga class at
Nueva Alma on Mclean Avenue in Yonkers. My brother was actually in the middle of going to back to back classes, and my aunt and I joined him for the second one. I knew within the first 4 minutes that this class was probably just out of my range, but I was ready to sweat and determined to shrug off how massively silly I looked. And it was awesome. Erica, who I have had as an instructor at that studio twice now, is awesome. She is the best combination of chatty, tough, and approachable- with just the right emphasis on the tangible aspects as the intangible ones.
After yoga, and a well needed breakfast and shower, my aunt, mister, his brother, and I joined their mother for late lunch (early dinner? what do you call stew at 3 o'clock?) in Bronxville.
[caption id="attachment_346" align="alignright" width="346"]
Old Rusty[/caption]
The trip home was a bit more complicated. I had taken the Metro North up. But the mister had driven and along the way his 614 BC Mazda imploded. Lucky for him, even though it was smoking heavily from the hood, a little old lady yelled over that "something is wrong with your car." Long story short, we played several games of "musical cars" and eventually relied on ol' Rusty (also known as ol' Drafty) to get us home.
Run Attempt #2
Monday, after completing the final round of musical cars, and then researching every single type of car currently for sale, I suited up for a chilly run on the east side esplanade. Of course, since this was the weekend to nowhere, I only made it about 2/3rds of my intended distance. Blocked by some very official looking fences courtesy of the City of New York, will the construction over there ever end? Me thinks not.
All in all, sometimes things don't go as planned- for example, finishing this post in a timely manner. But eventually, things will come around. SPOILER ALERT: That half marathon? Turns out just fine.