[caption id="" align="aligncenter" width="514"]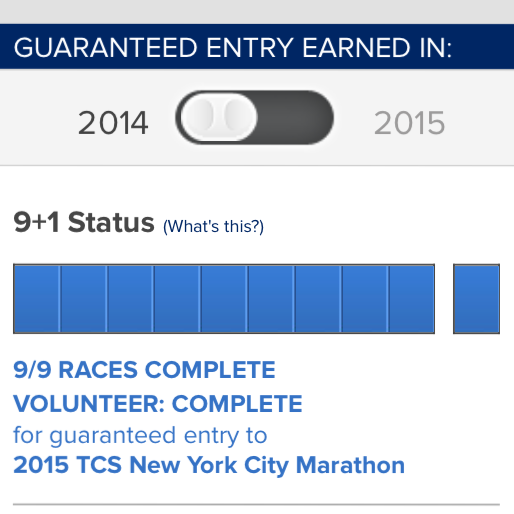 new york city marathon guaranteed entry 2015[/caption]
TCS New York City Marathon Training!
I'm back and ready for more miles.
I did a bit of running on and off the past several months, but between recovering from my knee injury last fall, planning a wedding, and recovering from planning said wedding, my consistency took a hit. It wasn't until a few weeks after the wedding commotion died down, I suspected I was getting some summertime blues.
And then I woke up- the city was baking and I realized, guiltily, I'm behind being acclimated to the humidity. For god's sake: there's a marathon coming down the line and it's time to make some moves!
NYC 2015: There's a Sub-4 to Settle
Last year I stupidly, albeit mysteriously, injured myself three weeks out from the marathon and somehow hobbled through on race day without blowing anything out completely. So this year, my two main goals are as follows:
1.) Have an injury free training season! This means I need to:
a.) find and buy new running shoes immediately
b.) learn to take time for recovery tools, like icing and stretching.
2.) Fingers crossed- If I can stay injury free, I think I have a really good shot at sub-4 hrs. Before my late injury last year, I was right on track to finish around 4 hours, so hopefully I can get back to that zone.
That's all I got for now! As I finish this, I am watching "Ultramarathon Man," with Dean Karnazes. There's a lot going on in this movie that could, and may be, talked about. But right now I think the main take away is Karnazes ordered and ate fresh pizza in the middle of his marathons.  Whikki-whaa?? (Record scratch) Make that my 3rd goal.