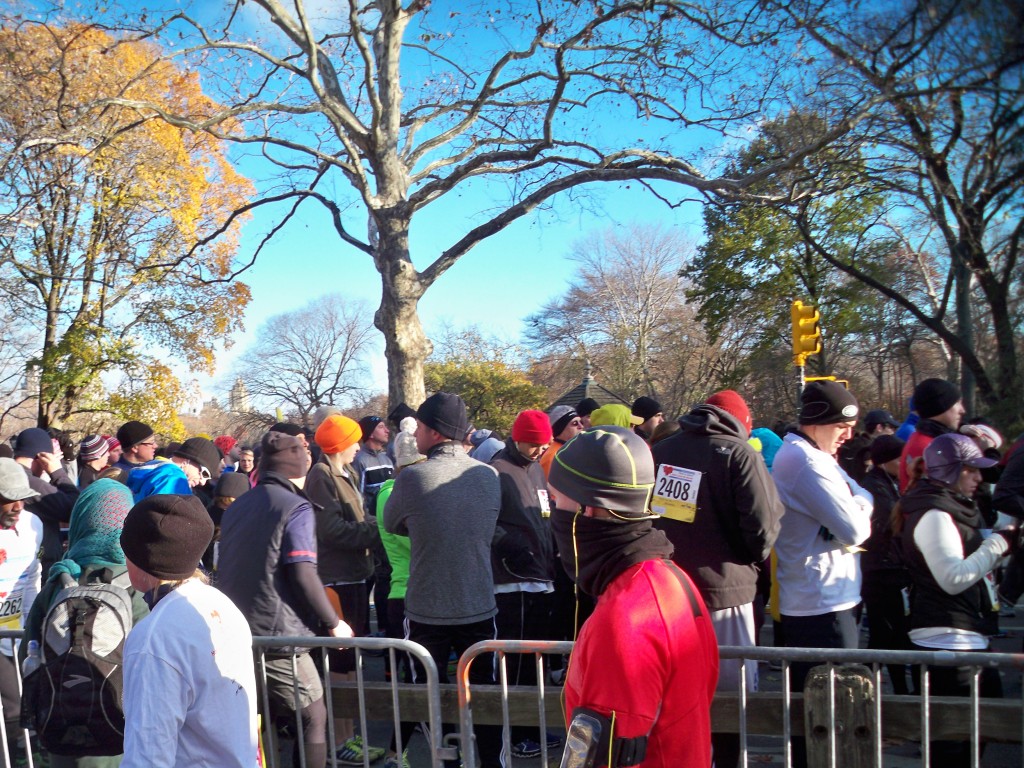 Sunday before Thanksgiving, 4,689 poor souls gathered in  Central Park to be tortured to run 4 miles. I, for better or worse, was one of them. All week I had my eye on the weather and all week I knew it was going to be a cold one.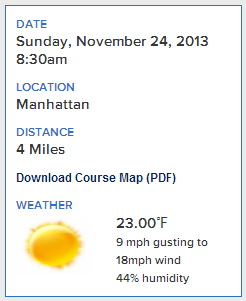 23 degrees cold. As we stood in the corral, the announcer then added: with the wind chill, it really felt more like 11 degrees. 11 degrees. And I was still sick.
The race began, and from the first step to the last my calves were so cold I felt like from the knee down I was running on glass vases. It was so cold, that at the first water station, the runner immediately in front of me picked up a cup, only to throw it away in disgust. As I discovered a moment later, there was about a half inch of ice on the cup, sealing the water beneath it. Nothing a good crack couldn't clear up, but still! Come 'on!
The finish line, in fact, featured a volunteer proclaiming like a circus barker: "Ice cold, hot water up ahead! Get your ice cold, hot water up ahead."
The finish line also featured a cheer squad! And they were awesome, cheering for every single runner as we came across the finish line. And as brutal as this race was, it was a for a great charity called God's Love We Deliver which provides and delivers meals to New Yorkers living wither serious illness.
I finished in 00:32:25. Not a race for the record books, but an interesting experience nonetheless. Even last winter when I was running outside, I always curtailed my outdoor running in sub 30 degree weather.
This past year I've run on Mountains, all over my hometown, in torrential downpours, in 98 degree heat, in 80% humidity, at the first hint of daybreak, and in the dying glow of twilight… And now I can add "in eskimo weather" to that list. And even though these were-by far– the most painful 4 miles I've run all year, it's fun to face new environmental challenges and figure out how to adapt accordingly.